What should I do if my landlord exaggerates damages and refuses to refund my full security deposit?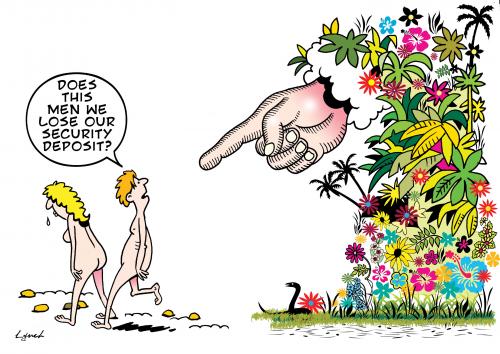 From Quora.com
What should I do if my landlord exaggerates damages and refuses to refund my full security deposit?
I had a security deposit — over $10K — for my
apartment in Manhattan
. I moved out after one year and now the landlord, a small family business, is claiming exaggerated damages that they claim required repainting the entire apartment and removing fixtures that were in the apartment prior to my moving in. What should be no more than $500 in damages (if that) is getting billed at thousands in damages and the landlord is claiming they need to wait at least another month to "assess the cost and extent of damage."What can I do? I have no proof they are lying because they repainted the whole place before telling us there were damages.
[Here are his qualifications: 'm somewhat of an authority on most aspects of the residential and commercial rental industry in New York City and a licensed real estate consultant with 17 years' experience in residential and commercial real estate.  Specializing in leasing, I have leased thousands of apartments and commercial spaces exclusively for landlords.  I am now in private practice as a consultant representing commercial and residential tenants on lease renewals and leasing transations of all kinds.  I can be reached directly through my website at
www.brucefeldmanassociates.com
.]
Unfortunately, this is a very common problem in NYC and elsewhere, especially with smaller "mom-and-pop" landlords.  However, it is also common for rental apartments to be legitimately damaged during a tenancy, and you seem to concede that you did in fact cause somedamage, albeit not more than $500 in your humble opinion. In the future, you can avoid such problems by simply photographing the rooms and main areas of the apartment when you move-in and doing the same when you move-out.  This will document the apartment's condition in both cases and will provide photographic evidence to refute any claim of damages that do not exist or were not caused by you.  I also recommend that every tenant do a physical "walk-through" with the building superintendent, property manager or landlord before handing over the keys and obtaining a report of any damages observed for which you may be charged. If there are no damages, that should be noted and a copy given to you for your records.  So make sure you do this for your next apartment.One can also avoid such problems by employing a method known as "living-out" the security deposit, which means using the security deposit to pay the last month's (or several month's) rent.  This method is a technical violation of the lease, so I do not recommend it in all circumstances, but it is an effective way to ensure the return of the security, especially in cases where the tenant has good reason to believe that the landlord will unlawfully withhold it.Under the New York City Multiple Dwellings Law, a landlord may retain a tenant's security deposit only if there was unpaid rent or actual physical damage to the leased premises.  You do not need proof that they were lying because they need proof that they are being truthful.  Since a tenant's security deposit remains the property of the tenant throughout the lease term, a landlord must prove that it is entitled to transfer a security deposit lawfully under the terms of the lease.  So the landlord, not you, needs to provide itemized evidence of any damages alleged to have been caused by you and the costs to repair them, which costs must be considered "reasonable" in each instance.What many tenants don't understand is that damages may only be claimed by a landlord if the damages exceed normal or reasonable wear-and-tear.  Painting, for example, is one such misunderstood item.  Landlords are generally expected to paint in-between tenancies at their own cost and expense.  If, however, a tenant has painted their previous white walls in other colors, then the landlord may indeed charge the tenant for painting costs as damages.  If the walls were simply dirty with smudges, scuffs, scrapes and other conditions expected by normal occupancy, then the landlord cannot charge for painting (absent a separate lease provision that might require cleaning or painting charges).  Small holes in walls, scrapes, marks from pictures, shelving and furniture are all considered reasonable wear-and-tear conditions and should never be charged to a tenant as "damages."My suggestion in your case would be for you to be proactive by sending the landlord a certified letter itemizing any actual damages (again, beyond reasonable wear-and-tear) that you are aware of causing.  Advise the landlord that you expect a reasonable deduction for those items and the balance of your security is expected to be returned promptly to you within the statutory time for return of your security deposit.  That will at least put the landlord on notice that you will likely challenge any exaggerated or phony deductions.  Good luck!