Apartment Renters, Even You Can Transform Your Kitchen Fixtures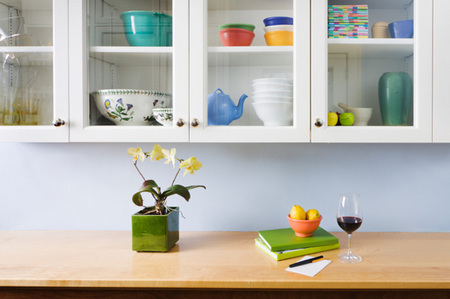 If you're new to the New York City/Metropolitan region, you might be surprised to find out that for many apartments in NYC, while the bedroom is bright and cheery, and the living room is flooded with natural light, the other rooms, like the bathroom and kitchens, are— how shall we say— compact. True, this is a city where over eight million live, love and work everyday, so many New York rentals might not have room for a spacious kitchen filled with friends and family members cooking, eating, doing homework and hanging out, but with a little creativity you can transform your micro kitchen into a cozy extension of the parlor or living room.
Now, we're not suggesting that you knock down walls or move a couch into the sink. There are simpler, less expensive ways to transform your kitchen and make it a relaxing room where you and your friends will be drawn to enjoy, instead of a cramped, oversized pantry.
Extend Your Kitchen
A great room, or a well-designed great room, is a place where you can work on the crossword and sip your coffee before work, where you chill out with friends and family and where you can breathe easily, surrounded by comfort and positive energy. A gathering space, like a parlor or living room, can be the perfect extension for a functional kitchen. Think of it this way: the kitchen can be a cozy transitioning room that is part of the living room. If you have a wall separating the two rooms, no big; we're living in an age where walls don't define rooms, you define the space you live in. According to Lisa Frederick from Houzz.com, in order to have the optimal comfort for your kitchen/living room you should consider some of these ideas for a new and improved living space:
Install Glass Cabinets
Give your kitchen a facelift and update those old, broken plastic blinds. You can find a variety of window blinds from The Shade Store that will allow you to regulate the light that comes into the room. If you're really feeling inspired for change, replace the solid cabinets in your kitchen with glass doors, this will offer color and comfort and allow you to know where everything is so, you're not fumbling for a cup or bowl or that Pyrex pitcher that always seems to allude you. Knowing where everything is in the kitchen can cut down on your clutter and frustration.
Incorporate a Loveseat
A little unorthodox, but adding a loveseat to the kitchen area will make the space feel warm and inviting. If it belongs to a set and the couch is in the living room, even better. Having matching furniture in adjacent rooms can offer the illusion that the two rooms are joined.
Update Your Countertops
If you have small countertops, it's time to update! Countertop space is a great place to prep food, as well as display your shiny appliances. If you don't have room to extend your previous countertop space, opt for a kitchen cart that will move and offer portable counter space. For more storage space, choose one with a large countertop and lots of storage space.
One last idea, give your kitchen and living room a fresh coat of paint and use colors that will open up the room. Paint the two rooms in the same shades so the kitchen and living room are one! Now that you have one large space that has multi-purpose and more definition, invite your friends over and celebrate a lively comfortable kitchen that you will be proud to show off.
Keep in mind that for some kinds of changes, such as replacing cabinetry and countertops, you will need your landlord's approval. But that shouldn't be too hard to get as long as you can show your landlord that you are installing better fixtures than what came with the apartment. You'll also want to show your landlord that you have a competent handyman lined up to do the installation work and that plumbing and electrical systems will not be changed or affected.
Post by: Jude Barry Jude's love of decoration and remodeling the interior of houses started when he moved into his first apartment. He is a master of creating a comfortable living space that exudes style, on a shoestring budget.